Do you want to obtain a whole new inventory, or would you prefer to spread out larger acquisitions over a longer period? No problem! With RAUE, you can simply lease products from a total net goods value of € 500.00 or pay for them by installments (hire purchase). You can choose the leasing option very simply as the payment method when you place your online order, assuming that your shopping cart only contains products that are available for lease purchase. You can find all leasable products here:
Leasable Products
Please note that the lease purchase option is only available to you if your business has been registered for at least one year.
Product Details View
All products available for leasing are identified by display of the term "Leasing". In the details view of these products, you will find the following notice at the top center: "This product can be financed via leasing."
In the right-hand column of the details view of a product available for leasing, there is a button inscribed "Leasing". A click on this button will open an additional window in which the possible leasing rates are displayed (Leasing Calculator).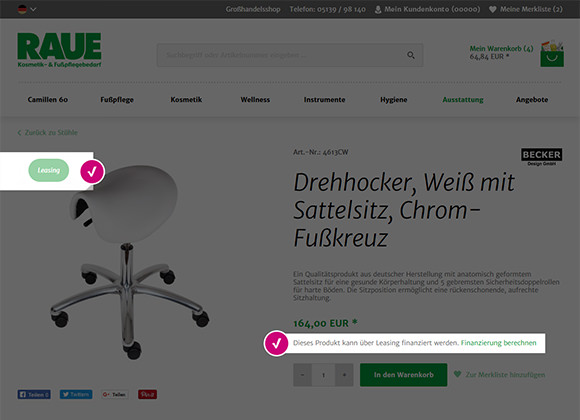 Leasing Calculator
You can select a leasing rate directly in the Leasing Calculator; that rate will then be entered as the default value for the subsequent order process. But the customer can also select and adjust the leasing rate in the course of the order process.
The Leasing Calculator also enables the user to enter a quantity for leasing (e.g. if you wish to order more than one of a product). The Leasing Calculator will calculate the possible leasing rates based on your input.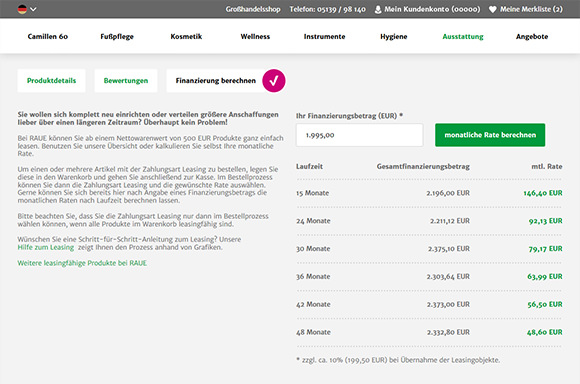 In the Shopping Basket
When you proceed to the shopping cart, the Leasing Calculator will be offered to you once again via button "Leasing" as long as it contains at least one product available for leasing.
If the shopping cart also contains one or more products which are not available for leasing, payment method "Leasing" will not be offered. To be able to choose this payment method, you will have to remove all products not available for leasing. You can do this simply via button "Remove all from shopping cart" in the overview of products not available for leasing.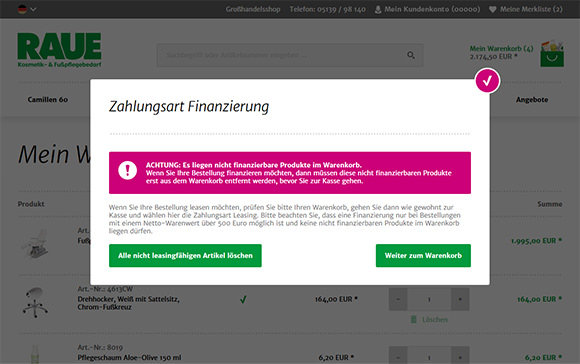 Order Process
In the course of the order process, you can now select payment method "Leasing". After selection of this option, several new input fields will be displayed.
First, you determine the "Leasing contract term". You cannot change the company, but you can enter a specific person as lessee for the billing address (usually the Managing Director). In addition, you need to enter the date the company was founded, as the leasing option is only available if your business has been registered for at least one year.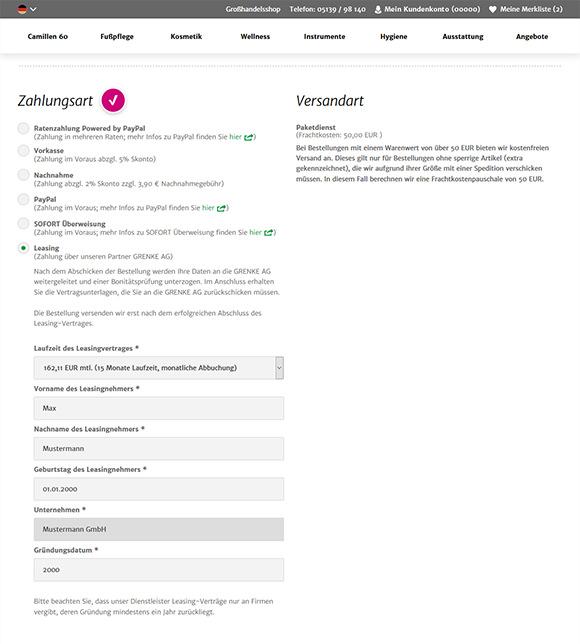 What Happens after the Order Has Been Placed
On receipt of your order, you will receive an e-mail confirming that we have received your order and that it is being checked. Here you will be asked to send us a copy of your business registration and identity card (front and back) by mail or e-mail. Once the checking has been completed, we shall send you another e-mail with the order details and a leasing contract. The contract must be signed by the lessee and returned to us by mail. We shall not dispatch your goods until we have received the signed leasing contract.
Whether you prefer a shorter or longer term, with or without down payment: we can put together a customized offer to match your every wish.
If you are interested, please simply give us a call on +49 (0) 5139 / 9814-0 or send an e-mail to verkauf@raue-kosmetik.de.